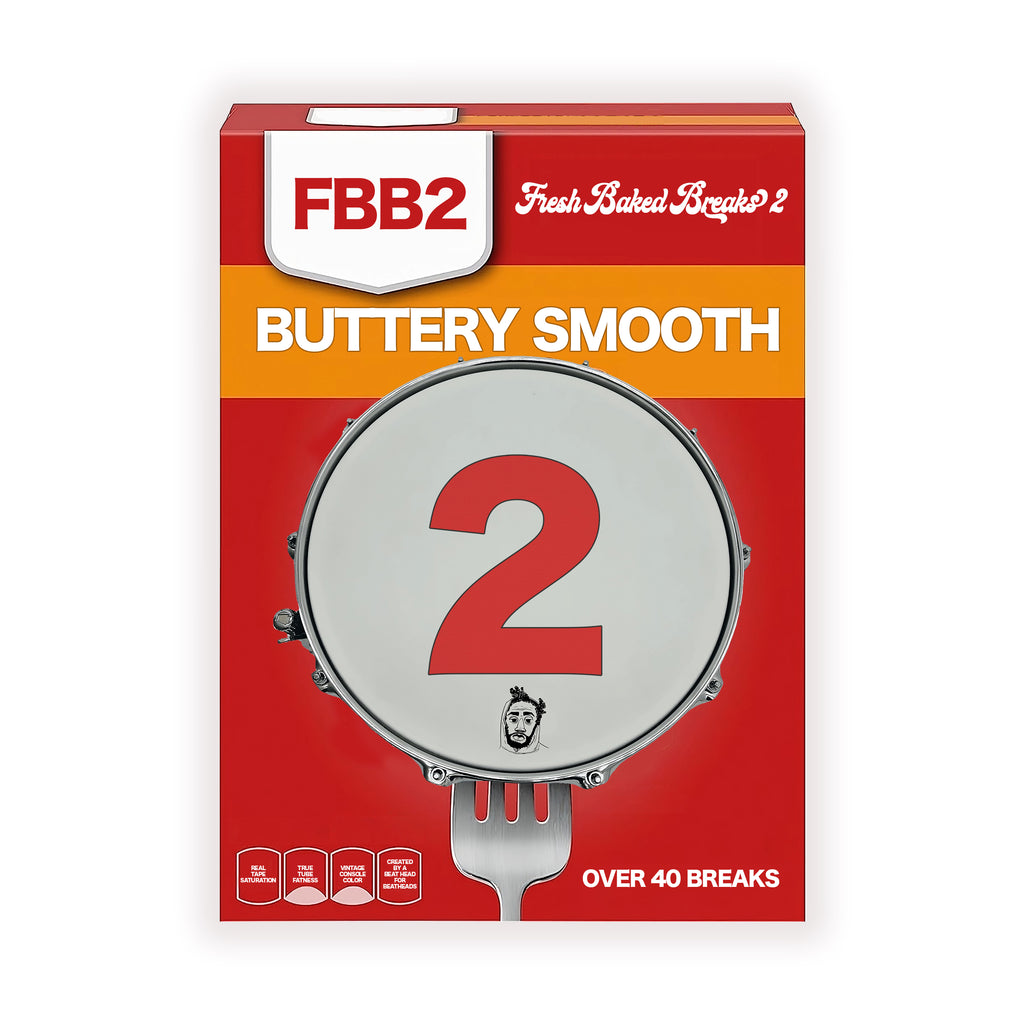 Fresh Baked Breaks 2
New Drop Alert! Fresh Baked Breaks volume 2 is out now. I really love the sound on these, bro. I tightened up the pockets as much as I could, I got the mix to sound as sweet as I could. Learned a lot from the last pack to this one, Went back to basics on the breaks and they sound tremendous…
Lets dig into why they sound like they do…
Vintage dynamic and ribbon mics in a tight and very well treated room.
Conversion on the way in from UAD via 2 Apollo units.
From there we've got the tape machine. Otari MX70, 16 track one inch for that magical tape thing. 
A modded out PM 1000 from Yamaha for that big analog board clarity and space
Some Dukane preamps from the sixties, For that

 

Altec / API attitude.
High end Ssl/Neve style compression from Calrec and Audioscape
Custom EQ from Meyer
A first prototype tube saturator/eq/exciter from Thermionic Culture
And finally master conversion from Burl
All this gear comes together to bring you a sound that feels more like a record than a sample pack.
I'm really impressed with the way this thing turned out to be honest with you. I think right away you're going to notice the texture color and that punch, I took a couple of different approaches on the way I process these. Some of these have la more open, some of these are more tight. Some of these are tape. Some of these are direct. I wanted to give people energies. I like the tape versions. They, they sound crazy to me. But I know not everybody loves hiss though. But yeah, like I said man, I'm really excited about this tone that I got out of this pack. The Acrolyte the Acrolyte thing. The rest of the kit is doing what it's supposed to do.
The hats are shining beautiful. Everything's correct. The in the pocket, manicured, righteous. And so when you drop in a session and do whatever it is that you're gonna do with them, I think you're gonna have a great time. I think they'll translate into tighter beats for heads. I cant wait to see what folks do, so tag me, collab post your beats and all that, let me know what's going on. 'm back on the IG and all that shit, I'm looking forward to it. Peace, love, and respect, man. I'll see y'all in a minute.
-DRMS
60+ Breaks in total 
40 Original breaks and variations
Both 24/96 and 16/44 versions


---
---
More from this collection